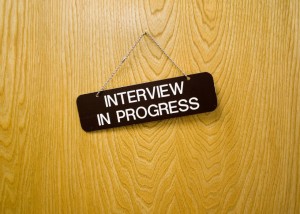 Interviews are arguably one of the most intimidating and important aspects of job hunting. A bad interview could quickly land you in the "No" pile, while a good interview could give you that final push you need to land the job. So what can you do to prepare for a big interview?
For starters, it's best to research the organization and develop your own sense of why you want the position. The Forbes Career blog recently posted an article stating that most common interview questions stem from "
the only 3 true job interview questions
:
Acing your response to an interview question requires pivoting off your basic answer to reinforce your strengths, motivation or fit – depending upon the true underlying question. If you don't answer the question, you get an F. If you simply answer it, you get a C or maybe a B. An A, and ultimately getting the job in most cases, requires more.
As I've articulated previously, there are only three true job interview questions:


Can you do the job?
Will you love the job?
Can we tolerate working with you?

(Strengths, motivation, and fit.)
But what happens when you're responding to questions from someone who hasn't been trained in interviewing? Take charge in a way that makes them feel good about themselves and what they uncover about you. To do this successfully, follow three simple steps: Think – Answer – Bridge


Think before opening your mouth.
Answer the question asked.
Bridge to answer the true underlying question.
Career blog
The Ladders
also recently wrote about one of the most-asked questions during interviews: the dreaded "Tell me a little bit about yourself?":
The Wrong Response
There are many ways to respond to this question correctly and just one wrong way: by asking, "What do you want to know?" That tells me you have not prepared properly for the interview and are likely to be equally unprepared on the job. You need to develop a good answer to this question, practice it and be able to deliver it with poise and confidence.
The Right Response
To help you prepare, I spoke to a number of career coaches on how best to respond when faced with this question. Heed the career advice that follows to ace this opener:
The consensus of the coaches with whom I spoke:


Focus on what most interests the interviewer
Highlight your most important accomplishments
Click
here
to read the entire Forbes Career article, and click
here
for the article on The Ladders.